New and Upworthy
Apropos Upworthy's extensive reach, reposting Oresti Tsonopoulos's Kurt Thometz's Little Black Bookstore, Jumel Terrace Books has had its biggest day on the internet EVAH!  As a result, I've had several mash-notes, but no offers, indecent <sigh> or otherwise, & several curiosity seekers (you couldn't call them customers) who have all very sincerely promised to come back.  One amusingly (mild) backed off buying something, excusing herself for having "books in boxes", presumably confining her to crowded pathways through the confines of her bibliophilic monk's cell/apt.  Perhaps she's single, with no one else to blame for coming between her and her love for the book, as she made no mention of anyone evicting her for bringing home, yes, another.  The other potential customers ducked out behind her, clutching purses and wallets.  Where have I seen this?
I have to laff.  Which is not to say your likes, shares & good wishes weren't appreciated.  As my father used to say of me, "He'd bitch if he were hung with a silk rope."  All the same, and apropos none of the above, what has me most enthused about the shop is its contents.  I'm shelving a second shipment of vintage pulps from dealer/curator Chris Eckhart, several of which'll be my tar beach reading. I'll be starting with Alston Anderson's Lover Man, which I've never heard of.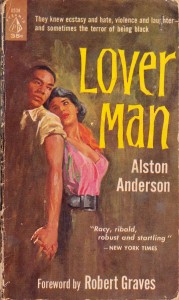 The lot includes several "Paperback originals" from the 50s and 60s I haven't heard of and can't wait to read:
From the Tawdry Covers:
"Something had happened to change everything.  Was he, like they, lured away from youthful ambition by the sordid promises of the materialistic world?  Was the struggle with the great reality too futile?  What separates people and sets off a cycle of petty, vicious hatreds just might be their dreams … dreams coming true or not coming true."
"She called him her Othello, her dark lover.  She wanted him more than she had wanted the white men in the city.  In the darkness of the hayloft, she called to him and stilled his trembling.  And soon he forgot the fear, the violation and the strict Southern code … the terrifying story of a reckless white beauty and a victimized young Negro in a hate-filled mob-wild town."
"A swamp NEGRO… a white trash WOMAN … a tragic HUNGER."
"From the publishers of Mandingo… Black Master of a White Lady."
"Not since Mandingo has a novel laid bare the terrors and passions of a black woman living in a white man's world."
"Wild, Wicked, Wanton.  Bell was a fancy wench.  Her beauty drove men insane with desire.  Her iron will made them slaves to her most bizarre erotic whims."
"Desire and decadence in the seething tropics.  Impending Evil.  Mambango was an isolated plantation inhabited by thousands of restless, brooding native laborers and a handful of whites who had been poisoned by raw passions and obsessed with personal grievances which the jungle had bred."
"A savage novel of a proud slave-stud with only one weapon to win his freedom — his virility!"
"This is the ante-bellum sex novel to end all ante-bellum sex novels."
"The taste of the lash only inflamed his desire for another woman — and another struggle towards Freedom!  Blaze was bigger, blacker, and bolder than any other slave on the plantation.  He was bought for his obvious virility to sire future slaves.  While his masters envied the power of his body, their women – black and white – fought to enjoy it."
"His eyes shining and his lips stretched in an enormous grin.  At last he had her alone!  Tillie fell back before him.  She felt fear and loathing but also a fierce, wild joy because she had brought a white man running to her!  At that moment, he pulled the light cord and plunged the room into darkness."
"A well-bred girl, barely out of her teens, finds her "soul" in the arms of an old blues man."
"The author writes with stripped-down almost photographic power and naked frankness and with a kind of O'Hara professionalism and sensationalism." – National Guardian.
"Searing, Shocking, All Too True.  A Brutal Sex-Splashed Novel of the Black Underground."
"This is a book that turns you on ; it tells you how it feels to be a young, black male American in a permissive society of white women." – Chester Himes.
I can't think of what better you could buy for the $15 to $20 average price per book, save the few selling upwards of that.  I know I like to say Dealers shouldn't use & Users shouldn't deal but I have set aside a few for myself.  Rest assured, everything in the shop is for sale.  Yesterday I heard, for the umpteenth time, "Everything here is so perfect, I wouldn't want to take anything away."
It is meant for your enrichment.  Please, take it away and Support Your Local Bookseller.  Meanwhile, I'm starting with Robert Graves (!) introduction to the Lover Man — who bears an extraordinary resemblance to our neighborhood's heart-throb, Isaach De Bankolé — and his Suzie Q.